Welcome to Susan's!
Downtown Aurora, Nebraska
Toy Shop, Used Bookstore,
Kids Consignment Clothing, Beautiful Vintage Gifts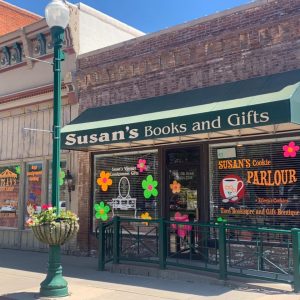 Why our bookstore matters (written Dec. 18, 2020)
I have so many in my life for 19 years walking through the bookstore door on 13th Street Aurora. Every emotion walking in.
Deep grief telling me a loss of a mother within the hour. Deep grief after burying a son.
Laughter seeing someone's eyes I haven't seen in years yet knowing instantly.
People walking into the bookstore on 13th Street Aurora exhausted from life.
Bright eyes bringing in a new baby to look up at the fans and lights.
All walking into the bookstore on 13th Street Aurora. Knowing a book may be within the walls to help them, change them, encourage them, relax them. Knowing they will have a bookstore to give them a peace and emotion only books bring.
All walking into the bookstore on 13th Street Aurora. Bringing children to find a book they will hold with a state of pride as they leave. Asking for a book for a hurting friend. Asking for a book as they will go sit in a cabin. Asking for a book on coins. On Civil War. On unicorns. On dinosaurs. On science fiction. On pregnancy. On grief. On parenting. On romance. Asking for a classic. Book lovers.
Thank you all for letting your lives be part of mine. You are all part of why I believe life will always be beautiful. Susan
Susan's

 Latest "Thursday Morning Note"
Appreciate Beauty Near Us. Children seeing beauty. 
Violinist Joshua Bell playing secretly in the Washington D.C. Subway

We are so glad you are visiting our website!  

FACEBOOK

  
Hours this week:  Monday -Friday 10-530, Saturday 10-1

    Searching:  If the search bar is not shown on your device you should be able to access it on the main menu button on your home screen.

Purchase a GIFT CARD for any occasion here!


These are sent right to the email of who you are giving a smile to with your message & a coupon code!



 Susan's Toys, Art Supplies, Science Projects, & Crafts for your Kids


Melissa & Doug, Thames & Kosmos, Mindware, JuraToys, Schylling, Djeco, Tedco, Duncan, Crafttastic, Popular Playthings, Toysmith, Creativity for Kids, Copernicus, Haba, Heebie Jeebies, Learning Resources, Hog Wild, Winning Moves, Ravensburger 



 Vintage Consignment Gifts  
Beautiful gifts for sale by our customers.  
Glassware, China, Figurines, Nostalgic Gifts, Salt & Pepper Shakers, Bells, Pottery

Used Books  
 

Over 20,000 books are now available for you to search by last name of author or a keyword in title.  If you have books to donate we would love them!  They help us have our books at inexpensive prices, to expand our books available to everyone, to keep our business alive, and also give away books to everyone that comes in our shop to choose and possibly change their lives.  We ship for $3.99 per book order.



Children's Consignment Clothing newborn - 16
We would love to sell your children's clothes that look new!  
Over 4,000 outfits now available on our website for sale by over 200 local moms.  
All of our kid's clothes look "almost new" and we ship for $8.99 per clothing order.

Susan's Gifts
Alphabet Necklaces, Quotable Magnets, Jigsaw Puzzles, Map Necklaces, Bookmarks & Scrabble Magnets



New Books by Nebraska Authors &

 S

elf-Published

 Authors




Welcome to Susan's!!  We invite you to come for books that might change your life, find award-winning toys, purchase beautiful vintage consignment gifts, select almost new children's consignment clothing, and make friends.  Educational activities, crafts, science and building projects, and toys your kids will love to learn as they play.  Quality.  Educational.  And, of course, fun!
We welcome you to our used bookstore.  History, biographies, fiction, children, mysteries, westerns, cookbooks, sports, religious books, and more.  Everyone gets a free book every time you visit as our gift.  Books are donated by customers to help us have our store and to help us give books away in our local communities.   We desire to get books into as many homes throughout our area as possible.  We believe that a book given in the daytime may change a life when read at midnight.  
Have a beautiful day!  Life is so short…only one grain of sand can make it through the sand timer per moment.  Let's make a conscious effort to notice each piece as it goes through.  Each moment.  Our gift.  Susan
Favorite past "Thursday notes" of Susan's:
Thursday note written January 19, 2017 – Anniversary of Susan's Mom dying.  Beauty of life despite hurts.  Poem to an unborn child.  "It's okay."
A favorite Thursday note of Susan's.   Candlelight giving just enough light for our next step.  Written December 12, 2019.
Thursday note of Susan's – "Hold Fast Your Dream" poem by Louise Driscoll. Written during WW1.  On keeping the ability to dream and think of good in the midst of suffering.  Written May 31, 2013.
One more of Susan's very favorites – "The Christmas Box Collection" by Richard Paul Evans.  Hard moments in life compared to minor movement in musical composition.  Don't stop our song.  Keep playing to get into the next movement of our songs.